We've just added a Revolutionary New Search Feature - Map Searching! 
Simply draw a map of the areas you want to search in and all the available homes appear both on the map and in a list.  Save the search and get Daily Updates!  That was Easy!
How to use this new feature:
Step 1 - Set your Criteria
Go to our home page: On Demand Realty and select the county, city of interest, and your criteria:
Price,

#Bedrooms,

#Baths, etc,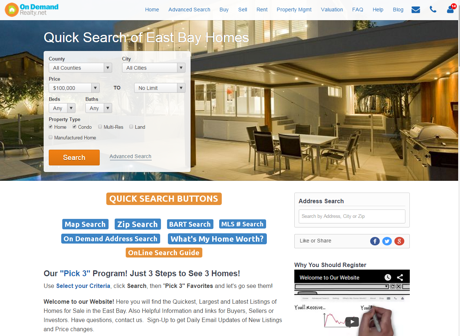 Click Search to see the homes that match your criteria. 
Step 2 - Draw the Map
In the Search Results,
Click the Interactive Map tab to view the listings on the map.
On the top of the map you will see a small icon of a polygon shape with a pen.  Click it.
Select your starting point on the map, click for the first point, draw, click, draw click, etc., until you get back to the beginning to close the loop.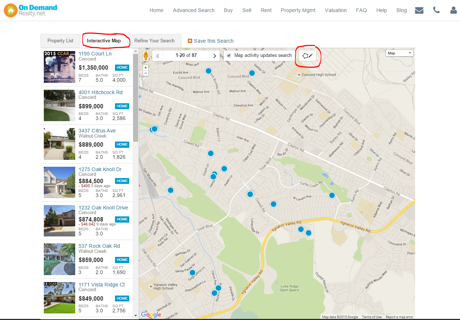 Step 3 - Save the Search
Once you save this search, you will get daily updates of any listing changes: New, Price, Sold.
 Let me know your comments and share with all your friends, family and associates. If you have questions, or would like us to create the map for you, let us know.  We'll be glad to help!
Shows the resulting map and the available listings in the map area.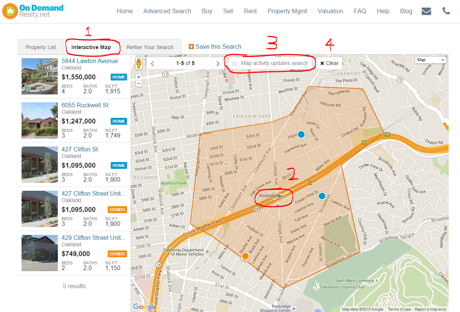 This tool can be used to map  the following:
Homes for Sale Near Bart
Homes for Sale Near Schools or School Boundaries
Homes for Sale Near Outdoor Areas: Parks, Trails, Golf Courses, Water, etc
Homes for Sale Near Highways for commuters.
How will you use it?