Welcome to Our Website
Click here to view a short video on the Benefits of Signing up and saving a search.
HOW TO CREATE AND SAVE A SEARCH
One of the major benefits of the On Demand Realty website is that you can create and save searches so when new listings become available, or if there are price changes, you will be notified via email automatically. The data source for our searches is the same one being used by all real estate agents in the area so it is accurate, current and complete.
There are several ways, described below, to perform your search to make it easy for you to find the right home in the right area. These include:
Map Search - draw a box on the map and see the available listings
Zip Code Search - know the zip you want, then use this method
Homes for Sale Near Bart - you can select the BART station and find nearby homes, or use Map Search to target a station.
School Districts - find homes in your selected school district.
Helpful Links - the sidebars on the webpages have links to information on schools, market data, maps, interest rates, etc.
Market Report - create your own local market reports of Active, Pending and Sold listings
Website Search - find information within On Demand Realty - new buyer programs, gov't programs, etc.
Use the screen shots and instructions below to show you how to sign up, and then create an Advanced Search, with targeted results. Should you have questions, please contact us for assistance or so we set up the searches for you.
This is the first page of the website. Note the Content Tabs across the top: HOME, ADVANCED SEARCH, BUYER, SELLER, PROPERTY MANAGEMENT, RENTALS. Click the Content Tab to go to the page that is of interest to you. Once in the content area, there are additional pages that provide various levels of information for that category.
From the HOME Page, you can initiate searches using the Search box embedded in the picture, our you can use the Buttons below the picture: SEARCH BY MAP, SEARCH BY ZIP CODE, or SEARCH NEAR BART. Additionally, if you are on a laptop or large tablet, you will see on the the ability to perform an ADDRESS SEARCH.
Also each Content section has its own Navigation Sidebar. These Sidebars have links to other areas on the site, support pre-set searches for cities/areas, and have helpful links for information on Schools, Community Reports, Sample Forms, Maps, and additional content helpful to you while looking at real estate.
SIGN-UP SCREEN - Step 1
To be able to view listing details, save favorites and save searches, you will need to sign up on the website. There is no cost to use the website. You will input your First and Last Name, your email address and your telephone number, that's all. Upon receipt of your sign up you will get a confirmation email from us thanking you for using the website. Shortly after you sign up, one of our agents will reach out to contact you by telephone to provide assistance if you need it, explain our many services and offer you a human contact to the web. We ask that you take our call so we can better understand your goals, timelines and needs. We fully respect your privacy and understand the journey to buying a home. We want to help, not harass you. So tell us how we can help, share your timeline and what you are seeking and we will help meet your needs, while respecting your privacy. So as our name implies, we are ON DEMAND to help YOU, when YOU want it!
The Advanced Search tab opens up a more detailed screen so you can select details and generate a more specific search. Note that this page also allows for searching by Condo, Zip Code, Foreclosure, Rentals, MLS record number, Sold and Address searches.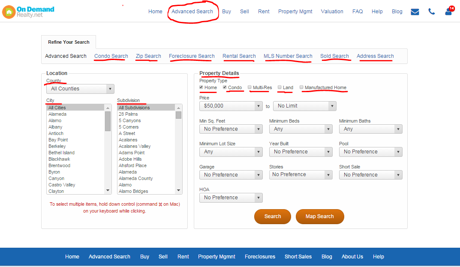 To Start, select the Type of Search from the header bar: Condo, Zip, Foreclosure, Rental, MLS, Sold or Address.
Step 1 - Then select the County you want to search. Currently On Demand Realty provides service in Alameda and Contra Costa county on this website, but if you are interested in listings through-out the sate, we are able to support your request, Just call us.
Step 2, select the City in that County that you would like to search. If you know a specific Sub-Division in that City you can select that as well. NOTE: if there are 2 similar sub-divisions in the menu, use the "control" key and select them both. Why? The source data comes from the local MLS and was entered by agents, so there may be some mis-spellings or creative names! So that you do not miss any listings, select all the sub-divisions that may appear similar, if you want try a sub-division search. You do not need to select a sub-division to search.
Step 3, select the Property Details, such as Price, # Bedrooms, # Baths, Stories, Pool, HOA, Year Built,etc.
When done making your selections, hit SEARCH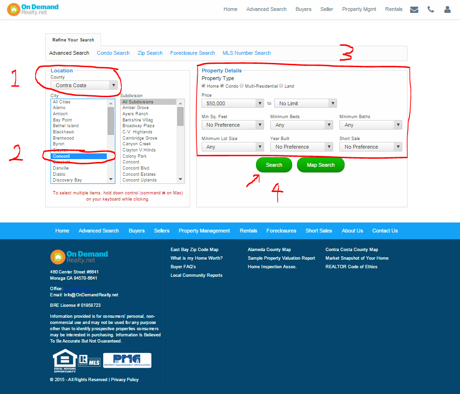 SEARCH RESULTS - LIST FORMAT
The default display is a list of properties that are ranked from Highest Price to Lowest Price. Go the upper right corner of the list and select the Sort By drop down screen. Select "Newest First". The list will automatically re-sort and display the newest listings at the top of the list on your screen. Above the displayed listings you will see the number of properties that have matched your search criteria. Too Many? Too Few? Use the "Refine Search" button to modify your search, then hit Search again.
Note: It is important to select this "Sort By" filter so that when you Save your Search it will save "Newest Listings" for your automatic updates.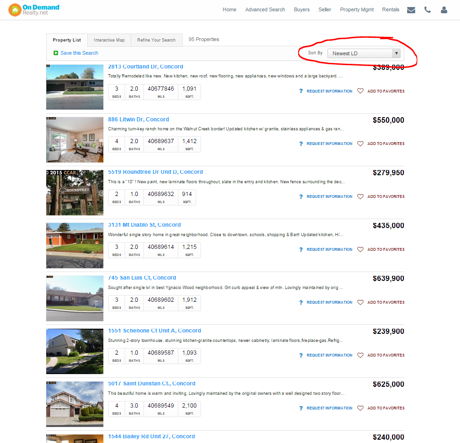 SEARCH FORMAT - INTERACTIVE MAP RESULTS
Our website also supports an interactive map search. Click the button, Interactive Map and you will see a list of homes on the left side and a map on the right with icons for the homes in the list. You can zoom-in or zoom-out on the map as well as scroll and if you hover over the dots on the map you will see details about the home. NOTE: Homes are in Blue and Condos are in Goldenrod.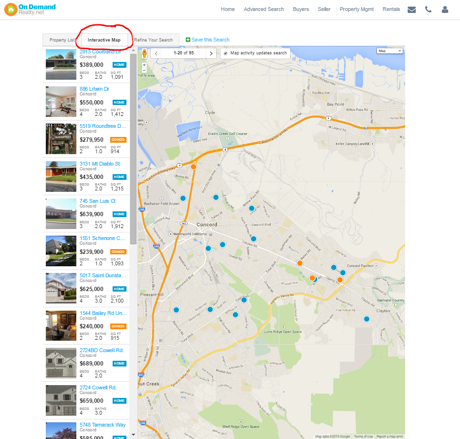 ADVANCED SEARCH USING MAP SEARCH
This website also offers you the ability to draw a map of an area you want to search for homes on our Interactive Map, and see all the available listings in that area. You can then Save the search and get daily updates for that mapped area.
To get started, go to the Home Page, select the City you are interested and the criteria: Price, Beds/Baths, etc. then click Search. On the Display, select the Interactive Map view and you will see this below:
Next, click the Polygon Icon in the Top of the Map. This will activate your pencil. Now you can click on the map to set a starting point, then draw a line, click, draw, click, etc. until you have selected your area and closed the loop. All the available listings within that area will appear both on the map and in a property list, see below: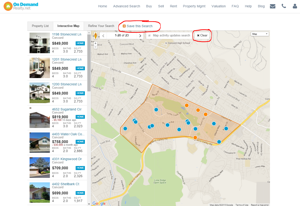 Now you can Save the search, name it and get Daily updates sent to your email.
ADVANCED SEARCH USING ZIP CODES
The website also supports searches by Zip Codes. This allows you to be more targeted within a City so that your results will all be in the zip code(s) that you select.
There are 2 ways to search by Zip Code:
Click the Search by Zip Code from the Home Page. This will take you to a page with maps that show the cities and the zips coded by city. Each Zip Code listed has been linked in a search to show you the latest listings in that Zip code. You can then "Refine Your Search", add your "Property Details", perform a search and then Save the Search so you will get daily updates.
Go to the Advanced Tab on the Home Page and follow the directions below. This method allows you to select multiple Zip Codes at a time in case you wish to have one search across areas for the same Property Details.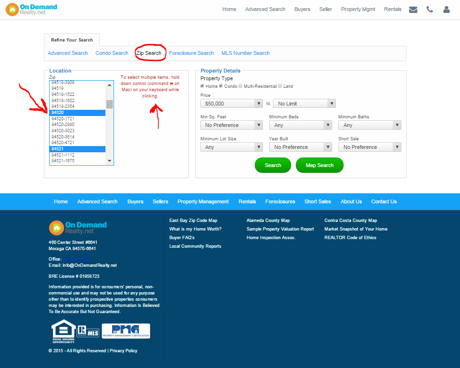 If you have a property address you can click on the ADVANCED SEARCH and then look for the ADDRESS SEARCH option in the upper right corner of the screen. You can enter the house number and any listings with that number will appear with the street name and city for you to select the right one.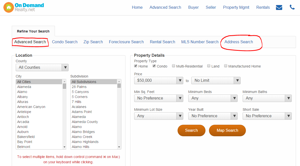 You are now able to search for SOLD properties. This will provide you with an idea of what has sold in an area during a date range that you select. Select the normal Location parameters of County, City, Subdivision and then select the Property Details noting that you can select a date range using the "Sold Within" drop down option.

SAVING A SEARCH
Once you have completed your search, then you will need to save it to get daily updates. Go to the top of the page and look for the "Save this Search" dialog box and click it.. A Save Search box will open where you can name the search. NOTE: You must be signed in to save searches. If you are not, you will be prompted to sign up or log in.
HINT: since you may be inclined to create and save more than one search, it is suggested that you name the search by the City, Sub-division, zip and property details. For example: Concord 94521, 3bed 2bath, $5000k. This is helpful so when the updates arrive in your email you will know what search they are referencing. When you are done with the search name, select the Frequency of the updates you want to receive, and click Save. The system will count down as it saves the search and then return to the screen.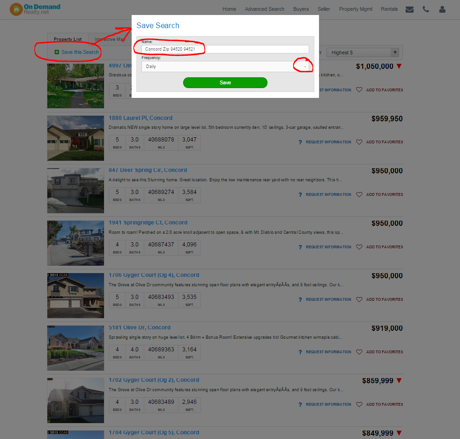 VIEWING / EDITING SAVED SEARCHES
Now that the searches are saved you will start to get updates as they become available in the MLS. Should you want to view prior searches you have created, or edit/delete them, then go the person icon in the top upper right of the page. When you click on the icon a box will open that shows your saved searches, favorites etc. You can edit or delete as you wish, at any time.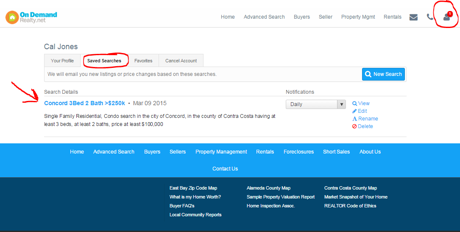 EMAIL UPDATE EXAMPLE
Below is a SAMPLE email update. As you save searches, our system will track New Properties, Price changes and NOW Pending sales and send you a daily update of activity. This is provided so that you can remain up to date with what is happening in the market with respect to your searches.
NOTE 1: To make sure you do not get TOO much information in this email, make sure your searches are refined to the Locations and Property Details you are searching for in a home. This will save you time reviewing and not make the email too overwhelming each morning!
NOTE 2: Pending Updates - this NEW feature will let you see which properties have offers and may close if all parties agree and all contract contingencies are met. Tracking this update will give you a feeling for the speed of the activity in the market so you can assess your timing in making any offers.
Note 3: The Black marks are to redact the names of actual client searches used by this agent to pro-actively monitor activity for their client.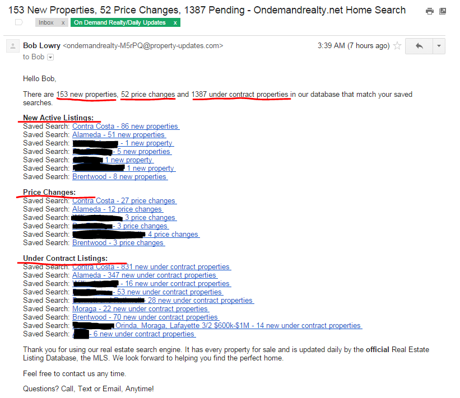 CONGRATULATIONS.
With the completion of this tutorial, you are now a Master of the On Demand Realty website. This will help to keep you on top of all the latest listings in your area.
When you are ready to go see some of the homes, Call, Text or Email us and we will be glad to assist you in viewing the homes, securing lending, and helping to create and present the offer all the way through escrow.
Questions? Call, email or text me at 925 709 4801.