Want an Overview of Your Local Real Estate Market?
BUYERS, SELLERS and INVESTORS are all interested in their local real estate markets.
But easily getting that accurate local information has been difficult. Until Now!
PRESENTING -> On Demand Realty MARKET REPORT
What is a MARKET REPORT ?
Market Report is a FREE report of current local real estate data which is auto generated and sent your email on a frequency you select. The Report presents all the Active, Under Contract and Sold listings in the market area you select. This information gives you up to date information enabling you to make a more educated and informed decision.
(Click to enlarge LIVE sample report)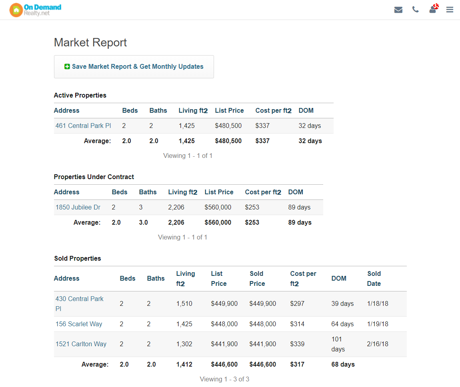 * Delivered to YOUR email at a Frequency YOU set
* With Market Information important to YOU!
* SOLD Listings - this report displays Sold listings for comps!
* View this report anywhere, on all devices!
CAUTION: Use of this report will make you a MARKET INSIDER