Manufactured Homes

A Housing Solution to Consider!
If you're considering buying a Manufactured Home (aka mobile home), take a look at the information we have created below to help you understand the process, learn about the parks and search for your new home. Our website has all the latest homes for sale as found in the REALTOR MLS database. We will even send you daily email listing updates for New, Price changes, Pending and Sold homes.
If you have any questions, contact us, Info@OnDemandRealty.net and we will be glad to help you and act as your agent to protect your interests, as a Buyer or Seller.
The Quick Links below will show you homes currently available.
After you view the homes, if you Save the Search, you will get daily email updates of listings from the local MLS. See something you like. Call us and we can help you buy it!
5 Steps to Buying a Manufactured Home
Step 1 - How much can I afford? (Loan and Park Rent)
A) LENDERS
The number of lenders that will offer loans for manufactured homes are limited and specialized. Most large banks or credit unions will NOT finance manufactured Homes. You will need to speak with a lender and get "pre-Approved" so we know how much you can afford in a home. You should get this done before looking for a home so you will know what price of home you can afford. Below are links to lenders that fund Manufactured Homes:
First Pacific Financial Lending Services - website link
InPark Lending - website link
Mountainside Financial - website link
MHCal.com - website link
Triad Lending - website link
B) PARK RENT
All Manufactured Homes in Northern California require the home owner to pay a space rent for the land under the home. This rent is for the use of the property. The space rent may or may not cover other services or utilities, so check with the parks that interests you. All parks require that you apply in person. Application approval can include:
An income that is at least 3x the park rent
A History of Foreclosures, Short Sales, Bankruptcies,
No Investors, Buyer must be signer,
Age Limitations - if a Senior Park owners must be 55+ years of age,
Have at least qualifying lender FICO score and generally No Co-signers
Step 2 - Select the Type of Park and the Location
A) TYPE OF PARK
There 2 types of parks, Family and Senior (55+). Click the links below to get a list of the type of parks by county, city and park name.
B) VISIT THE PARKS
Once you have determined the location(s), you should go see the parks and drive through them so you can see if it is a place you would like to live. Select 2 or 3 parks so that you will have the greatest number of available homes for sale to see. You will need to stop by the park to get a copy of their park application and application procedures in terms of information needed and how to schedule an appointment.
Some parks require a signed purchase agreement before submitting their park rental application, others will take a park application prior to having a signed purchase agreement. Be aware that before you can move into a mobile home park you have to have a signed rental lease with the park management for the land which sits under the home. The parks require qualifications to be met before they will approve you for a park lease.
C) PARK INFORMATION and APPLICATIONS
All parks do require that you make an appointment with the park management and meet with them in person to submit the application and learn about the park rules and procedures.
Step 3 - Search for Available Homes
At the top of this page is a search box. Look in the search box and click the "Advanced Search" link. You will then see a search page that looks like this: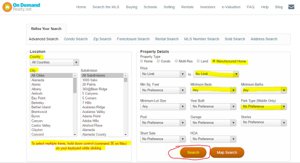 Select the highlighted areas in the search boxes and use the drop down menus to select the: County, City(ies), Price, # Bedrooms, # Baths, and the Type of Park
Click SEARCH and all of the most current homes for sale will be on your screen.
Click the Save Your Search button and you will get daily email updates for all New, Pending, Price Changes and Sold listings based on the search you set.
Step 4 - Call, Email or Text to On Demand Realty
You are now ready to speak with an On Demand Realty real estate agent that can help you find the Right home, at the Right price, in the Right location. As a buyer, you will want a Buyer' agent who will protect YOUR interest. The Listing (Sellers) agent is interested in protecting the sellers interest to get the most money for the home. On Demand Realty will work with you to discuss the home pricing using comparables of prior sales, make arrangements to see the homes, and provide information to help make your purchase decision comfortable.
Call or Text: 925 709 4801 - This is Bob's direct mobile line so you will get an answer!
Email: Bob@OnDemandRealty.net
Step 5 - Let Us Help You Make an Offer.
Once you have found the Right home, you will want to make an offer and On Demand Realty will guide you. We will work with your Lender and create the strongest offer you can make for the home and then present it for you. We will guide you in negotiating the offer if the Seller decides to counter your counter. Once you offer is accepted, we will guide you through the closing process until you take possession of your new home!
Here is some information on the Offer Process:
Sample Purchase Offer Agreement - click this link to review the Offer Agreement that will be used when an offer is made. You will note there are several pages. One section is An Agency Disclosure that show that you are being represented by a Buyer's Agent to protect your interests. The other is the Offer Purchase Agreement that provides the terms of the offer, disclosures, loan terms and timelines. Please take the time to review so you are comfortable making an offer. If you have questions on these forms, I will be glad to assist.
Home and Pest Inspections - just as with any home purchase, you will want to have the home inspected. As in the lenders, there are select inspectors that work on Manufactured Homes, so give us a call for a referral for your area.
Closing Process - the process with a Manufactured home is not as stringent as a Private Home or Condo and if a cash transaction can usually can be done in days instead of multiple weeks. If financed, the closing may take a similar amount of time (30-45 days) as a conventional single family home or condo. Again there are select Title/Escrow companies that are experienced in these transactions so to reduce your timeline, give us a call for a recommendation.
Some General Information
What Every Mobile Home Owner Should Know - this is an informative brochure produced by The Senate Select Committee on Manufactured Homes and Communities.
Mobile vs Manufactured vs Modular Homes - this brief overview provides the difference terms describing these housing types.
First, to better understand, these are "mobile" homes, meaning they are not meant to be relocated or used on the highway. Those would be "motor homes" or RV's (recreational vehicles).
Second, The target market for manufactured/mobile homes are for buyers that are
"downsizing" from larger homes and seeking a Senior Community
new home buyers that may not be able to secure a home loan.
Third, since 1976 these homes are now built to the Housing and Urban Development (HUD) national building standards. If they are fixed to a permanent foundation and permitted by the local building development they are treated as real property for tax purposes. If they are instead placed on "blocks" they may be taxed as personal property. Buyers should always check with the local park and communities to determine the tax implications when determining the budget impact. In general, homes built after 1980 are listed on the local property tax roles, while those built before 1980 may be treated as personal property unless the owners have initiated a change.
Fourth, though many manufactured/mobile homes are in community parks, more than 70% of manufactured homes are sold to private property owners who place them on their own land. Much less expensive than a conventional "stick" home, delivered on a timeline and installed on a foundation, ready to go!
Fifth, if they are purchased with land they can be financed with conventional 20 and 30 year mortgages.
Finally, being factory-made they are built to quality controlled standards, using the same materials as "stick built" homes (plaster-board, moulding, plumbing, roofing, 2x4 studs, etc) and are 10-20% less per sqft than site built homes. (Source - Manufactured Housing Institute - Quick Facts 2014)
Serious about this and want to talk about buying one?
Here is some helpful information for you to review.
1) Age of the Home - homes built before 1976 may require special financing solutions, such as a higher down payment so the buyer needs to find an experienced lender to assist. Homes built after 1976 have more flexible lender solutions. When we talk I can explain further.
2) Insurance Providers - after the offer has been accepted, you will need to get insurance coverage for the home. As a courtesy, below are some insurance firms that write coverage for mobile homes:
Louella Sigua Farmers Insurance, 925-930-0307, lsigua@farmersagent.com
Janet L. Macedo, Wiebel Insurance Agency, 800-653-5565
3) California Title 25. Housing and Community Development Mobilehome Parks and Installation Regulations - this document covers all the regulations regarding a mobilehome park and includes information on earthquake bracing, accessory buildings, etc.
4) California Mobile Home Residency Law - 2018 - this link will take you to the California Senate website where you can read and review the current Civil Code Provisions.
5) Tax Questions regarding Mobile Homes - follow this link to the California State Board of Equalization website for the Frequently Asked Questions on tax issues with manufactured homes.
6) Manufactured Home Alterations and Permit Guidelines Chart - This chart helps to define what alterations require a permit, plan review or engineering load requirements.
7) Mobile Home Park Frequently Asked Questions - this California Department of Housing and Community Development website provides some answers to the most frequently asked questions, as well as contacts for more information.
8) CA Dept of Housing and Community Development Mobile Home Program - this is the home page for the HCD division. Here you can find information on the rule, regulations, FAQ's, and Forms provided by the state.